A Better use for Plastic
What can you do with a bunch of empty plastic bottles, an air pump and some old piano mallets? Well, Simas Nekrošius seems to have a good idea: just add some reclaimed wood and you get a very playable "portable" marimba.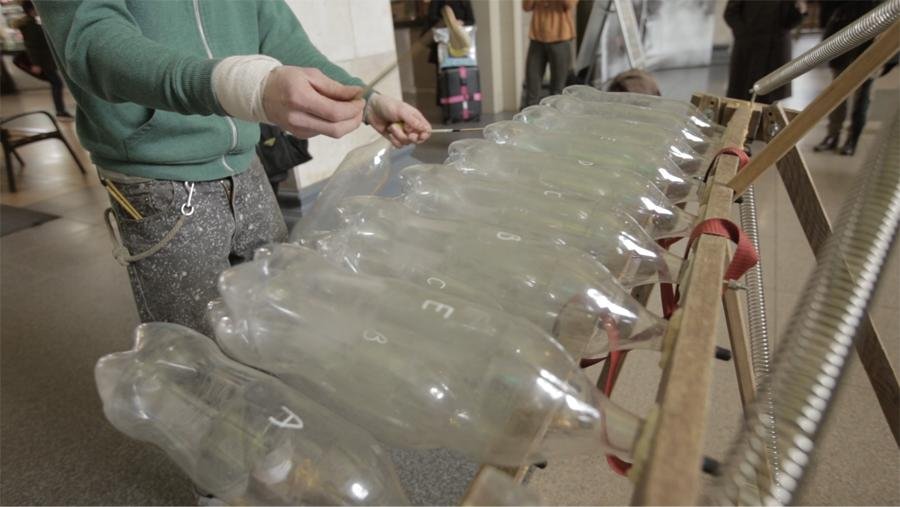 Simas is an artist based in Lithuania. He builds his own musical instruments out of recycled stuff he finds along the way. PET bottles, electric motors, wood leftovers and even abandoned pianos. If you can get a sound out of it, it goes into the machine and he would probably add some Arduino contraption to the mix, just because.
The first time we saw Simas, he was riding his bike down the street with the marimba firmly attached to his back just like a backpack. We thought it was a fancy way of carrying water, that until we heard what actually it was. He performs regularly on Pilies gatve, a street in Vilnius that has seen plenty of street performers for hundreds of years. A tradition we hope will never stop.
Simas is the kind of person who brings warmth and character to an ever- growing city, which more often than not seems to lose its way. We are very glad to have him on the man Train Station. Please enjoy.
In this video
Weird Instrument

Simas Nekrošius
Behind Camera

Gintas Berzinzkas
Dora Plataunaitė
Gediminas Bartuška
Post Production

Gabriel Orentas
Dora Plataunaitė